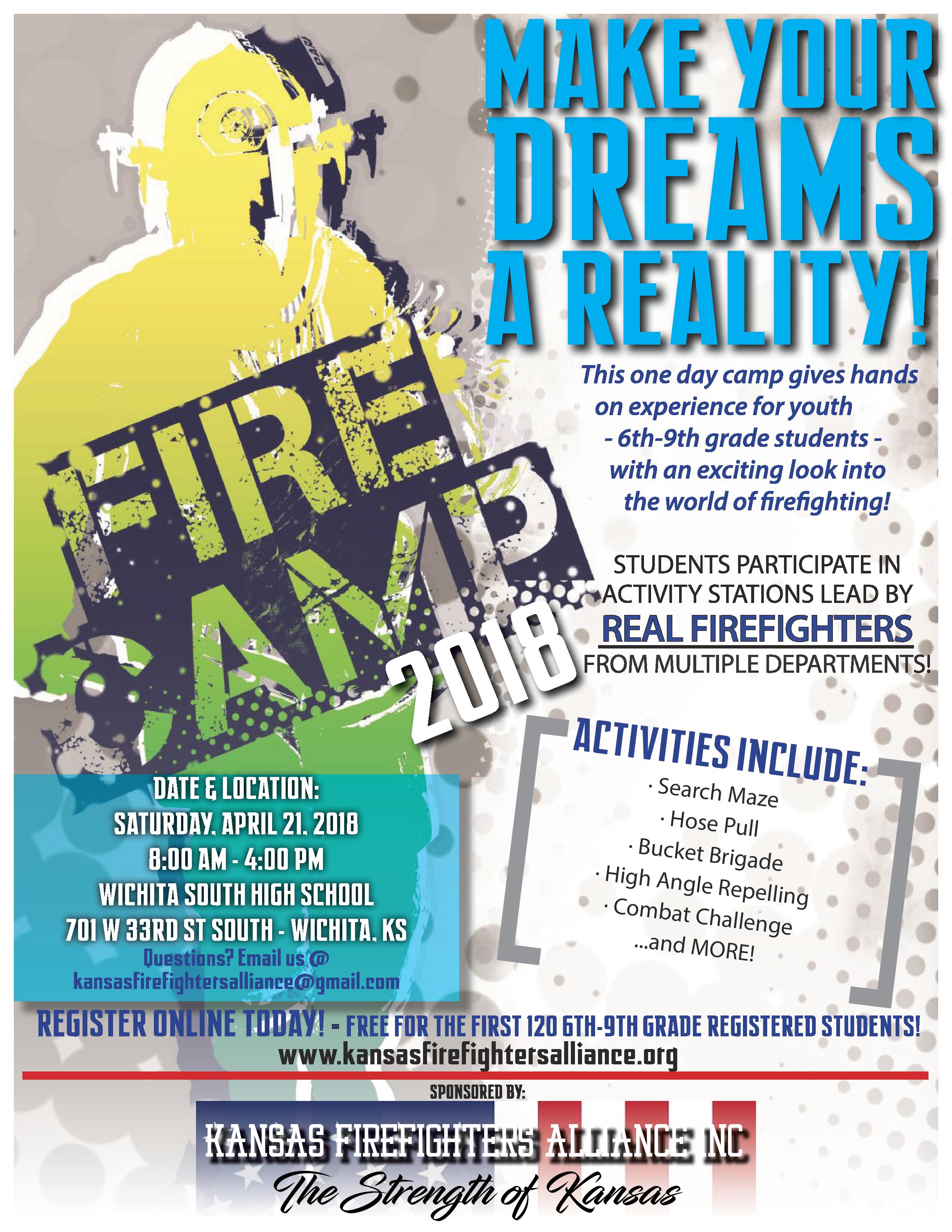 FIRE CAMP IS COMING SATURDAY, April 21, 2018.
WHERE IS FIRE CAMP?
Wichita South High School (NE corner of campus)
701 W. 33rd Street South, Wichita, Kansas
WHAT IS FIRE CAMP?
Fire camp is a one day camp giving a hands-on experience for youth into the world of firefighting.
You will have an opportunity to participate in hands-on activity stations that will give you a real feel for whether this career is the right one or you.
The stations are lead by real firefighters from multiple fire departments in our local area.
ACTIVITY STATIONS:
Search Maze, Water Rescue, High Angle Repelling, Hose Pull/Firefighter Hose Line Battle, Medical, Bucket Brigade,
Search & Rescue, Bunker Gear Race, Haz Mat Station, Combat Challenge, and more coming this year!
WHO IS IT FOR?
GRADES 6TH-9TH
This is a one day camp that will be FREE to up to 100 students who pre-register for this event by completing and submitting the registration form with a postmark no later than April 1, 2018.
SPONSORS & FIREFIGHTERS
FIREFIGHTERS – Interested in helping at camp? Call us at (316) 648-3662.
POTENTIAL SPONSORS – We welcome businesses and private sponsors to join us in our effort to serve our community.
We are a non-profit organization. Call (316) 648-0563 to see how you can help us!
PLAN FOR AN INCREDIBLE, FUN-FILLED DAY!
ACTIVITIES SCHEDULE:
8:00 Check In and Opening Ceremonies
9:00 – 12:10 Firefighter Station Activities
12:10 – 12:40 Lunch will be provided
12:50 – 4:00 Firefighter Station Activities
4:15 – 4:30 Closing
(10 minute breaks between stations)
Items to bring:
___Sunscreen ___Jacket or sweatshirt (Depending on the weather)
___Medications ___Change of Clothes
___Hat ___Tennis Shoes (NO open toe shoes or sandals!)
___Towel ___Bug Spray
___Water Bottle ___Positive Attitude
SPECIAL THANKS TO:
Kansas Firefighters Alliance, Kansas Firefighters Musuem, Mel Hambelton Ford, Hutchinson Community College, Salvation Army, South High School and Walgreens along with our local fire departments and firefighters who all came together to make this possible!